Chiropractor Ramah Wagner D.C.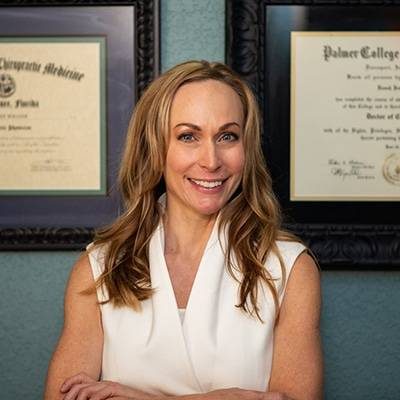 Ramah Wagner was born onto a family of natural healthcare experts. Her grandfather, father, and eldest brother all graduated from Palmer College of Chiropractic, "The Fountainhead of Chiropractic Medicine. " Ramah knew she would become a chiropractor and practice in Florida as early as 13 years old. She spent years working in the field to realize that vision. In 2005, she opened Wagner Chiropractic in Eustis and patients stumbled through moving boxes in order to seek her care a her clinic.
Ramah has written in an Amazon Best Selling book with other famous authors like Bernie Siegel, entitled "Thank God I..."She went on to write her own book " The Health of Business - How To Balance Your Life For Greater Returns. " She lectures people of all ages who want to live healthier and more fulfilling lives.  Ramah has traveled the world and lectured nationally to thousands. She has written as a featured columnist for the award-winning magazine: "healthy Living" and was the Health Editor of "Velocity Magazine" for numerous years. Ramah continues to lecture and work in her thriving practice in beautiful Eustis, FL.
B.S., D.C., F.I.M.A., R.C., D.C. | Florida Chiropractic License CH8955
Dr. Ramah J. Wagner is a third generation alternative health doctor. She graduated from Palmer Chiropractic College in Iowa, where chiropractic was first discovered in 1895. Her clinic is located outside Orlando, Florida, where she works with cutting edge technology in the alternative healing arts – including chiropractic, nutrition, detoxification, acupuncture, emotional clearing and spinal rehabilitation.
Dr. Wagner was born and raised in Iowa. She worked with her parents in their clinic since she was 14 years old. In 2005, one year after working in other offices, she opened Wagner Chiropractic in Eustis, Florida.
Dr. Ramah – as her patients call her – is an internationally recognized author and nationally known speaker. In her book, "The Health of Business – How to balance Your Life For Greater Returns", she shares colorful stories and powerful healing methods to achieve your best life.
1990—2000 Wagner Chiropractic Clinic, Iowa—Chiropractic Assistant, Therapy Assistant, Rehabilitation Director, Front Desk, Insurance & Marketing
2004 Associate Doctor and Marketing Director, Wagner Chiropractic, Sioux City
2004—2005 Associate Doctor, Hornback Chiropractic & Wellness, Bradenton, FL
2005—Present Owner/CEO Wagner Chiropractic, P.A. Rehabilitation & Wellness Eustis, FL
1995 Studied Human Biology under Nobel Prize Nominee
1996 Research Assistant for University of Iowa's Social Science Institute conduction of surveys and statistical data
1997 Research studies in Biology for Briar Cliff College on "Flora and Fauna of the Black Hills"
1999 Philosophy Tutor for University of South Dakota
2000 Biology Senior Research presentation to University of South Dakota Biology Research Board on "Pheromones"
2004 Palmer Case Report on "Chiropractic's Impact on the Autistic Child"
2008—Present International Academy of Medical Acupuncture Fellowship with Dr. Amaro
2016 CLEAR Scoliosis Institute research papers on Outcomes for Clinical Research
1995 Creative Writing Program for University of Iowa
2002 Palmer Lyceum Design Award
2003 Borders Bookstore Artist of the Month of June and July
2005—2008 Columnist "Living in Balance" for Healthy Living Magazine (award winning magazine in Florida)
2006—2012 Health Editor, Velocity Magazine
2007—2009 Woman of Achievement Award, Business & Professional Women, Orlando
2008— 2013 Author, "The Business of Health - How to Balance Your Life for Greater Returns
2008 Mentored and hired Associate Doctor
2009 Parker Stage Speaker before Jack Canfield, Las Vegas, NV
2012 Moved Wagner Chiropractic to a 3,000 sq. ft. facility with full rehab bay
2015 International Award for Chiropractic Excellence
2016 Worldwide Leaders in Healthcare—Top Chiropractor
1994 Myofascial Tissue Relief Therapy-(as a CA for Wagner Chiropractic) Parker Chiropractic College
1990-present Kats Management Seminars- (accompanied my fathers office since age 14) Chiropractic Office Management Systems, Kansas City, MO
2002 Pinnacle, Management System, Dr. Steve Hays, Chicago, IL
2002-2003 Applied Kinesiology Post Graduate studies - 62 accredited hours, Davenport, IA
2003 Palmer Clinic Abroad in India, Pune, India
2003 Activator I and II, Davenport, IA
2003 PT I and PT II, Davenport, IA
2004 Neuro-Emotional Technique, Dr. Scott Walker
2004 NET basic and NEXT, Chicago, IL
2004 Mally Lower Extremity Technique, Dr. Mitch Mally, Davenport, IA
2004—2007 The Masters Circle Seminars, Chicago and Newark, NJ
2004—2010 Practice Success, Dr. Janice Hughes, Chiropractic Management and Marketing Coaching Program, Davenport, IA
2004 Gateway Seminars, Case Management and Insurance Billing, Phoenix, AZ
2005 HIV/AIDS at FCA Spring Convention & Expo – 3 hours
2005 MEDICAL ERRORS at FCA National Convention & Expo – 2 hours
2006 MEDICAL ERRORS at FCA National Convention & Expo – 2 hours
2006 LAWS AND RULES OF THE BOARD at FCA National Convention & Expo – 2 hours
2006 RISK MANAGEMENT at FCA National Convention & Expo – 1 hour
2006 HIV/AIDS at FCA National Convention & Expo – 3 hours
2006 RISK MANAGEMENT at Neurology Diplomate Program, Session 2 – 3 hours
2006 CONTACT REFLEX ANALYSIS – 10 hours
2008 Neurology Diplomate Program, Session 1 – 9 hours
2008 Neurology Diplomate Program, Session 2 – 18 hours
2008 MEDICAL ERRORS at FCA National Convention - 2 hours
2008 RISK MANAGEMENT at FCA National Convention – 1 hour
2008 RECORD KEEPING/DOCUMENTATION AND CODING at FCA National Convention – 6 hours
2008 RECORD KEEPING/DOCUMENTATION AND CODING at Palmer College
Florida Homecoming – 2 hours
2008 ETHICS AND BOUNDARIES at FCA National Convention – 2 hours
2008 ACUPUNCTURE, Session 3 – 15 hours
2009 KAPLAN SEMINARS – Permanent Impairment Ratings—12 hours
2010 MEDICAL ERRORS at Palmer College Florida Homecoming
2010 MEDICAL ERRORS at FCA National Convention and Expo – 2 hours
2010 LAWS AND RULES OF THE BOARD at FCA National Convention and Expo – 1 hour
2010 RECORD KEEPING/DOCUMENTATION AND CODING at FCA National
Convention and Expo – 1 hour
2010 ETHICS AND BOUNDARIES at FCA National Convention and Expo – 2 hours
2010 RISK MANAGEMENT at FCA Convention – 1 hour
2010 RECORD KEEPING/DOCUMENTATION AND CODING at Palmer College Florida Homecoming – 2 hours
2010 CONTACT REFLEX ANALYSIS: POSITION YOURSELF FOR SUCCESS – 12 hours
2011 LAWS AND RULES OF THE BOARD at FCA National Convention & Expo – 2 hours
2011 RISK MANAGEMENT at FCA National Convention & Expo – 4 hours
2011 RECORD KEEPING/DOCUMENTATION AND CODING at FCA National Convention and Expo – 6 hours
2011 WHIPLASH INJURY BIOMECHANICS AND TRAUMATOLOGY – 6 hours
2011 CONTACT REFLEX ANALYSIS – 7 hours
2011 ACUPUNCTURE – Session 1 – 15 hours
2012 A DIFFERENT LOOK AT THYROID CHOLESTEROL & DIABETES USING BLOOD CHEMISTRY – 4 hours
2013 MEDICAL ERRORS Palmer College Homecoming – 2 hours
2013 LAW AND RULES OF THE BOARD Palmer College Homecoming – 2 hours
2013 RISK MANAGEMENT Palmer College Homecoming – 1 hour
2013 RECORD KEEPING/DOCUMENTATION AND CODING Palmer College Homecoming – 6 hours
2013 RECORD KEEPING/DOCUMENATION AND CODING FCA National Convention and Expo – 2 hours
2013 KAPLAN SEMINARS IMPAIRMENT RATING – 10 hours
2013 ETHICS AND BOUNDARIES FCA National Convention & Expo – 2 hours
2013 ACUPUNCTURE SAFETY AND RISK MANAGEMENT FCA National Convention & Expo – 2 hours
2013 ACUPUNCTURE TECHNIQUE FCA National Convention & Expo – 2 hours
2013 CONTACT REFLEX ANALYSIS TRAINING (APPLIED KINESIOLOGY & NUTRITION– 7 hours
2013 A DIFFERENT LOOK AT THYROID CHOLESTEROL & DIABETES USING BLOOD CHEMISTRY – 4 hours
2013 SYNERGY, Chiropractic Mastermind Group, Tampa, FL
2013 EMOTIONAL INTELLIGENCE SEMINAR & CERTIFICATION
2013 A HOLISTIC APPROACH TO THYROID DISORDERS – Dr. Kleber
2014 MEDICAL ERRORS FCA National Convention & Expo – 2 hours
2014 LAWS AND RULES OF THE BOARD FCA National Convention & Expo – 2 hours
2014 RISK MANAGEMENT FCA National Convention & Expo – 1 hour
2014 RECORD KEEPING/DOCUMENTATION AND CODING – 6 hours
2014 ETHICS AND BOUNDARIES FCA National Convention & Expo – 2 hours
2014 ACUPUNCTURE SAFETY AND RISK MANAGEMENT FCA National Convention & Expo – 2 hours
2014 ACUPUNCTURE TECHNIQUE FCA National Convention & Expo – 2 hours
2014 UNDERSTANDING, EVALUATING AND ADDRESSING AUTOIMMUNE DISEASE – 3 hours
2014 JOHN DEMARTINO'S LIFE PLANNING SEMINARS
2014 SYNERGY MASTERMIND GROUP
2014 WRITERS WORKSHOP WITH WAYNE DYER
2015 ICD 10 WORKSHOP FCA National – 3 hours
2015 DR. JIM NACCARATO SEMINAR
2015 EMOTIONAL INTELLIGENCE CERTIFICATION
2015 COMMUNICATIONS SEMINAR
2015 MASTERING THE SCIENCE OF BLOOD CHEMISTRY
2015 ICD 10 CERTIFICATION
2015 CLEAR SCOLIOSIS TRAINING (classroom certified)
2016 MEDICAL ERRORS FCA National – 2 hours
2016 LAWS AND RULES OF THE BOARD FCA National – 2 hours
2016 RISK MANAGEMENT FCA National - 1 hour
2016 RECORD KEEPING/DOCUMENTATION AND CODING FCA National – 2 hours
2016 ACUPUNCTURE SAFETY AND RISK MANAGEMENT FCA NATIONAL – 2 hours
2016 ACUPUNCTURE TECHNIQUE FCA National - 2 hours
2016 ADVANCED SCOLIOSIS WORKSHOP – 16 hours
2016 COULD METHYLATION BE THE HOLY GRAIL TO AGING GRACEFULLY? – 7 hours
2016 TONY ROBBINS SEMINAR—Date With Destiny and Unleash the Power Within—35 hours
2016 CLEAR INSTITUTE Dr. Tony Naldas Clinic, Kissimme, FL—50 hours
2016 BIOTICS METHYLATION—12 hours
2016 CLEAR ADVANCED SEMINAR—12 hours
2016 CLEAR INSTITUTE, Dr. Dennis Woggin, Minneapolis, MN—12 hours
2016 KATHY MILLS CHANG UNIVERSITY—File Practice Audit—2 days onsite
2016 Kats Management, Orlando, FL—8 hours
OFFICE HOURS
---
Monday
7:15am - 4:30pm

---
Tuesday
7:15am - 4:30pm
---
Wednesday
Closed
---
Thursday
7:15am - 4:30pm
---
Friday
7:15am - 3:30pm
---
Saturday
Closed